After all the months spent wrapping up my parents' estate, buying a house and finally moving in with setbacks, delays and the Covid-19 lockdown, the last few weeks have been the most normal since life was turned upside down in September last year.
After bingewatching Prison Break on Netflix, which I hadn't watched when it was first on TV, I was particularly moved by Wentworth Miller's depth of character in his portrayal of Michael Scofield and I was curious to know more. I read his remarkable writing on Scribd, watched his Oxford Union interview and his talk to the Human Rights Commission, which struck a chord with me - his talking about being bullied for being bullied, for failing every day to live up to expectations of others, for "not crying out for help when you believe there is no help to cry for". It brought a lot of memories and buried feelings to the surface and on the 21st of May after not being able to write a single word for seven months I started work on my first article in months, This is my Truth.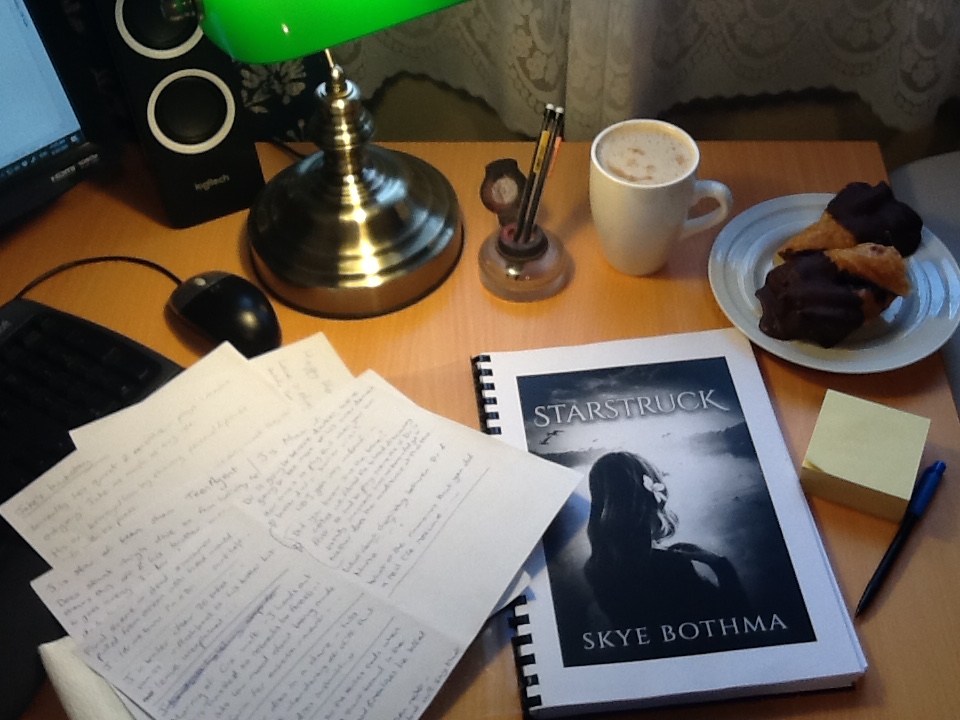 I was rather emotional while I worked through the these memories and feelings and when I told a friend that I was writing an article about it, she remarked that she was "glad I was channelling my depression into something positive". This irked me for two reasons: 1) the assumption that I was negative and 2) that the mood I was in was a 'negative' when I actually saw it was a positive. So this prompted me to write my next article, When Depressions Isn't Depression.
In the meantime, I finished moving into my new home at last, hanging up pictures and putting out ornaments, the finishing touches, around the end of June. I really love my new office. I purchased a new desk, drawers and executive chair - I felt I deserved it after years of working at a desk that had been bought from the Salvation Army and an office chair rescued from the tip. I also treated myself to a gorgeous banker's lamp which goes perfectly with the small collection of antiques I have displayed in my bookshelf. My office feels like a real writer's den. Now if I could just get rid of the noisy neighbours!
I was afraid I wouldn't be able to get back into writing my novel - I had left it so long and I felt heartsore that In September I was so excited that the first full draft was finally done and in just a few months I would be able to show the real thing to my mother. Now she is gone, Dad too, and it hurts knowing that neither of them will get to see me achieve the one thing I've dreamed of all my life - their dream of course, was to see me married with kids and I failed them on that count too.
However, I picked up the manuscript a few weeks ago and paged through it, seeing if there was any merit in continuing with it or if I should rather start a new project. I had already forgotten a lot of what I had written and as I read it, I was amazed by how good it was. I couldn't believe that I had written what I was reading. I really am a good writer! I'm not just tooting my own horn - I have worked as an editor for many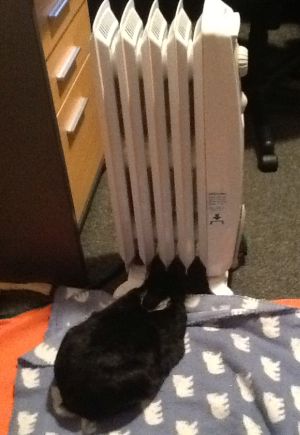 years and some of the writing that has come across my desk has been sooo bad. I was reading my work with my editor hat on and I was blown away by how good it was, especially for a first draft and I immediately felt inspired to keep going.
So, I am now working on a new rewrite - I''ve decided to change some parts and include a few new scenes, the last few months have given me a new perspective and some new experience to draw from.
Trixie is keeping me company as always. She's already marked out her favourite spot in the office, curled up next to the heater.
Don't forget to follow me on Facebook for quick updates and behind-the-scenes posts about pieces I'm working on, like did you know that my latest piece, Same Old Story took five days, four rewrites and one edit to complete?
All the best to you all and thank you for your support.